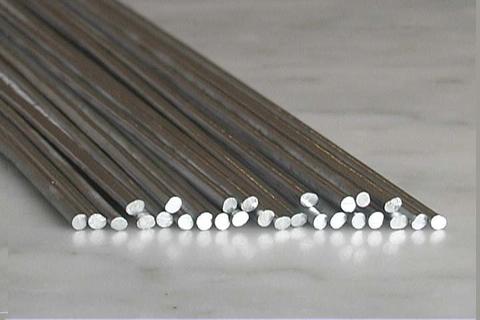 You are ordering alumaloy aluminum repair rods.
Made in the USA. All other aluminum repair is second hand to alumaloy! Dont be fooled by other brands because they dont hold a torch to this stuff. ( No Pun :D)
The reason is because other rods do not have the correct magnesium mixture and can spark which makes it difficult to use. Alumaloy has the patent on the correct mixture to make use easy and durable. As seen on tv this is a fluxless repair rod. All you need to have is a propane torch and something to clean the aluminum surface you are repairing. Alumaloy works great and I have seen it fill holes as big as a dime without dripping through. Alumaloy is also very strong when cooled. In fact it is many times stronger than the aluminum you are repairing. You can repair using butt joints, lap joints, mitered joints in windows, doors and frames, aluminum blocks and just about anything that is aluminum. For more information please visit the Alumaloy Instruction Page. Learn all you need to know about repairing your aluminum.